Ready to change into Nissan's all-new small Crossover? We have the 2011 Juke on our lot in Clearwater and it's ready to go! With a city MPG of 27 and Highway MPG of 32, the Nissan Juke has great gas mileage for your short commute in the Tampa Bay Area.


The Juke is designed to be a refreshing alternative for those shopping in the small car segment of the market.

The Juke is a distinctive combination of SUV toughness and sporting style. It definitely injects some much needed masculinity and energy into the small car market.

The decision to introduce the industry's first small crossover into the small car market reflects Nissan's philosophy of challenging conventions in Europe.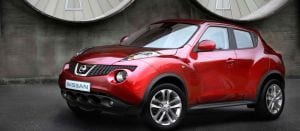 Design
From a design standpoint, the lower portion of Juke is pure SUV. It combines chunky wheels, wide tires, extended ground clearance and a robust stance with a top portion that is unadulterated sports car, with a high waistline, slim visor-like side glass graphics and a coupe-style falling roofline. The coupe effect is further underlined by the rear doors which have their handles hidden in the frame of the door.

Inside, the sports car theme continues with a driver-focused cabin dominated by a centre console design inspired by a motorcycle fuel tank. Finished in a distinctive high gloss color, the 'bike' console adds a sense of fun to the car. Practicality is assured by the rear-opening hatch and versatile luggage area with hidden storage opportunities.

The Juke is based on the Renault Nissan Alliance B platform and has a 2530mm wheelbase, is 4135mm long, 1765mm wide and 1570mm tall. On front-wheel drive versions, suspension is by MacPherson struts at the front with a torsion beam at the rear while four-wheel drive models have a multi-link rear suspension modeled on the system found on Qashqai.

The ALL-MODE 4x4-i, is a new development of Nissan's respected electronic all-wheel drive system and now features torque-vectoring technology to enhance agility and reduce under steer when cornering. As well splitting torque front to rear - up to a maximum of 50:50 - it can now be split from side-to-side across the rear axle, too.

Cornering ability is enhanced by sending increased torque to the outside rear wheel, reducing under steer. In total, up to 50% of the total available engine torque can be sent to either rear wheel. The inclusion of this innovation is a first in the small car segment - a technology that has, until now, only been found on top-of-the-range, premium vehicles.


Engines & transmissions

In Europe, three different engines will be available when sales start later in the year: one diesel and two 1.6-litre petrol units, all fully Euro 5 compliant. At the top of the range is a new turbocharged petrol engine (MR16DDT) with direct injection. The engine is one of the most powerful in its class, developing 140kW (190PS) and 240 Nm. The combination of direct injection with a turbocharger provides the power and responses expected from a 2.5-litre engine with the economy of a smaller engine.
The second petrol engine is a newly developed version from Nissan's trusted HR-family. Designated HR16DE, the lightweight, low-friction 16-valve unit now has a unique dual-injection system allowing finer metering of the fuel sprays for better combustion and develops 86kW (117 PS).

Finally, the K9K 81kW (110PS) 1.5-litre dCI common rail diesel offers excellent drivability - thanks to its heady 240 Nm of torque - with good economy and emissions.

In terms of transmissions, the two-wheel drive turbocharged 1.6-litre petrol engine is available with a six-speed manual transmission.

Nissan's XTRONIC CVT transmission, with a six-speed manual mode, will be available on the range-topping all-wheel-drive version of the turbocharged petrol engine.

The naturally aspirated 1.6-litre petrol is available either with a 5-speed manual or the updated XTRONIC CVT, while the 1.5-litre diesel engine is available with a 6-speed manual.

Equipment
Some standard equipment is climate control, leather upholstery, rear view camera and the Intelligent Key. These will all be available to Juke customers along with some more unusual features. One such is the Nissan Dynamic Control System, a central command and display module which allows the driver to alter dynamic drive settings as well as make changes to more obvious functions such as climate control. The display, meanwhile, shows engine and drive related dials and information.

For even more information about the Nissan Juke, please visit Nissan USA Online.